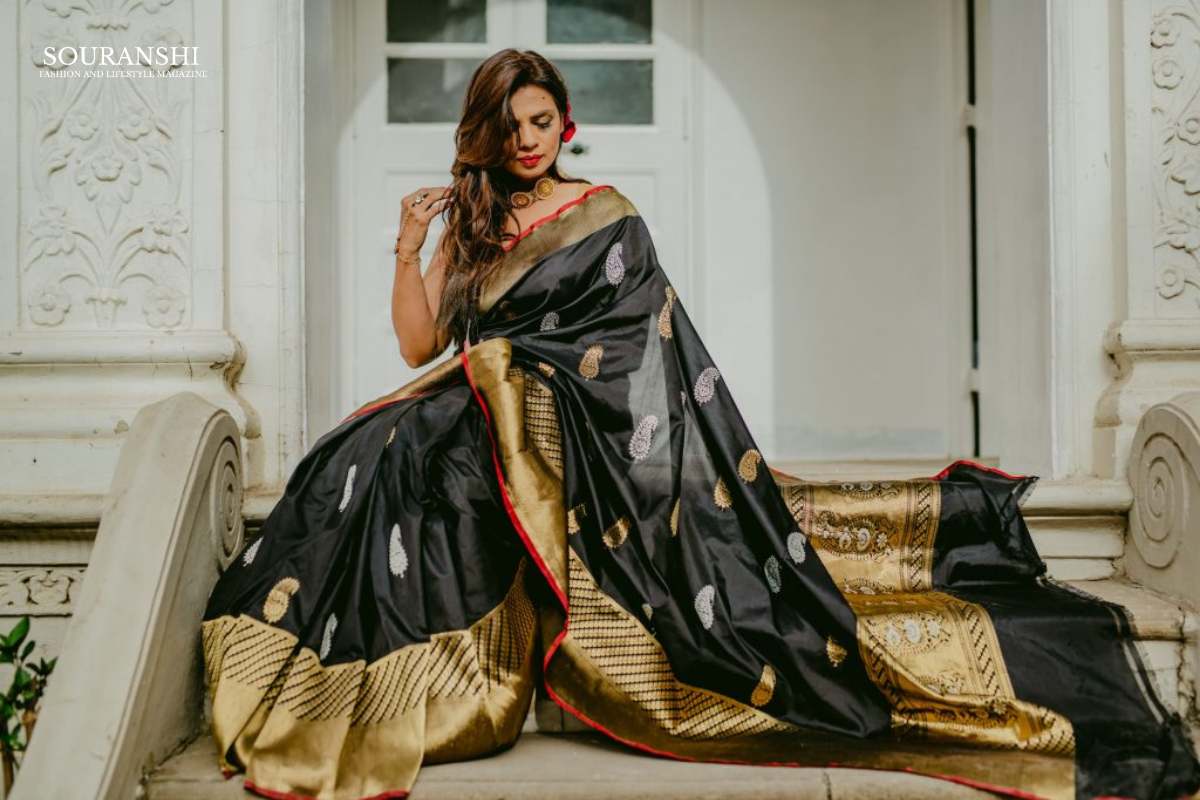 Best Banarasi Essence by Khinkhwab Foundation Story 2020
Opening new doors to the ancient art of weaving, in Banaras, Khinkhwab brings entrancing Banarasi silk art, which is as old as the city itself, close to the modern world.
The brand is an internet-based shopping label that has the most authentic, selectively handpicked, and breathtaking collection of Banarasi Sarees, Lehengas, Dupattas, and Banarasi fabric, available online. Khinkhwab is an exquisite amalgamation of heritage and culture of Banaras, woven into pure Banarasi silk sarees and lehengas.
Khinkhwab was born over a phone conversation between Mrs. Ruchi and her mother Mrs. Geeta Agarwal. Khinkhwab is a team of 4 people, Mrs. Ruchi Agarwal, her mother Mrs. Geeta Agarwal, her father Mr. Ashok Agarwal and her brother Mr. Amit Agarwal.
Mrs. Agarwal looks after curating and all the finer details and finances are taken care of by Mr. Agarwal. Mr. Amit & his wife look after events in India and overseas, whereas Mrs. Ruchi Agarwal is responsible for curation, marketing, advertising and exhibitions in Singapore & South East Asia.
Mrs. Geeta Agarwal was equally excited about her daughter's idea when she told her mother that she wanted to start this business. They started to brainstorm for the names of their new brainchild. "I read about Kimkhab, which is a type of gold weaving done on the Banarasi fabric. Inspired by that name, I decided to go with this unique and wonderful name Khinkhwab, which also means weaving dreams in Persian." Says Mrs. Ruchi Agarwal, founder, and owner of Khinkhwab.
She further tells us about the idea of laying the foundation of her golden dream, "Living in Singapore for many years, I have been seeing many Indian ladies wearing sarees and saree sellers in abundance. However, there wasn't anyone who was doing authentic Banarasi silk sarees. This created a spark and I thought why not bring Banarasi silk to Singapore and in turn the world, as I have access to such a rich culture from my hometown. To any woman, possessing a Banarasi is always a moment of pride. So, I started off with some 20 sarees, but then this idea took off so well and I received so much support and appreciation from the people around. So that was how Khinkhwab, the golden dreams took off in my life."
Reaching Ethnic lovers across the globe
Khinkhwab aims to cater to all the sections of society; and offers variety and range of products. "We want every woman to enjoy authentic Banarasi essence. We plan to do more events overseas and have our in- house looms to make our own designs. I have many ideas in mind, let us wait and see what all we can implement." Mrs. Ruchi Agarwal unfolds her heart's desire.
Ethnic lovers from across the world, cherish Khinkhwas's mesmerizing product range, with the traditional flavor of Banaras, which are sold in many countries, Australia, New Zealand, US, U.K, Germany, Dubai to name a few.
Khinkhwab has clients worldwide. They also have website visitors from China & Japan. A Design Studio in Singapore, where the products are displayed and people can take a look and purchase the exclusive range of products available in different types of fabrics. Banarasi Sarees, Dupattas, Lehengas, Suits, Stoles, Fabrics, etc. are the main products that Khinkhwab offers, and also customized products as per the requirements of the ethnic clothing lovers.
Fine varieties of silk
The spectacular range is woven using pure Handloom and Handwoven Silks chosen from amidst the fine varieties of silk such as Katan Silk, Tussar Silk, Moonga Silk, Chiniya Silk, Tissue Silk, Linen Silk, Georgette Silk, Crepe Silk to name a few. Out of these varieties, Mrs. Ruchi Agrawal absolutely loves Katan silks. "I love Katan silk. It is the purest and the richest form of Banarasi silk." She Says.
Price and Customization
Khinkhwab offers the best prices and authentic pieces to the clients. Team Khinkhwab tries to customize as much as they can for the clients. They have some of the clients for whom they have got sarees woven from scratch and the customers have patiently waited for their masterpieces. For pure silk, price range starts from INR 15000 and for some real zari, exclusive sarees can go up to 15 to 20 lakhs depending upon the grams of Gold used in the zari. In fact, a real zari saree for one of the loyal clients had been commissioned for INR 6 Lakhs.
About the Man force- The talented weavers
The city of Banaras houses over 100,000 weavers, considering the fact that weaving is what Banaras is known for, apart from the rich culture, the city embodies. It takes 10 days to 6 months to weave a saree, depending upon the detailing.
Customer Satisfaction- The Dignified Commitment
Team Khinkhwab ensures the on-time delivery of the package and also ensures to deliver what they have committed as customer satisfaction is the most important aspect for the team. "I remember once I had committed to one of client that we will deliver her dupatta by a certain date, but due to some problem, the courier got delayed. I called up the courier service, picked up the piece from their warehouse and personally delivered it to her place. That's how important our commitment is. Our customer service starts after the purchase, it does not end there." Mrs. Ruchi shares her take.
Coverage in the market and marketing strategy
The focus of our marketing strategy has been to make sure that we are able to take the essence of Banaras products to all the possible Banarasi silk customers worldwide. Towards this, we have developed a robust e-commerce website as well as optimized blogs giving the best of information about all the varieties of products that we offer. We also promote our businesses on a large scale through Social media handles like Facebook, Instagram, and Pinterest.
Mission and vision statement
The primary mission of Khinkhwab is to promote the handmade and handloom industry and offer original and the best of Banarasi silk products to our customers worldwide.
What makes Khinkhwab stand out among the rest is, its vision to elevate and inspire thousands of skillful weavers of Varanasi to showcase their artwork in a modern way. By promoting and incorporating unconventional modern designs and colors into their work, Khinkhwab's vision is to bridge the gap between the authentic workpieces of these weavers of Varanasi and the Banarasi silk lovers. Adding to this vision, another aim of Khinkhwab is to bless the Banarasi silk lovers with some of the most beautiful, traditional, elegant, and authentic, pure Banarasi silk sarees and lehengas.
Love from the lovers- Heartfelt award and achievements
Some of the key achievements of Khinkhwab has been the opportunities to collaborate with some beautiful bloggers, doing interviews with Mrs., Vijayalakshmi jee, Mrs., Chinna Dua jee, and be part of some top-notch events like IWA Bazaar Singapore, Wedding Asia, Red Trunk Singapore, Runway bridal wedding show by Mrs. Ramola Bachchan. In addition, love on Instagram and Facebook with increasing followers every day.
The trust that the loyal customer has, happiness which a woman feels after wearing the Khinkhwab garments and few words of praise are the awards and achievements which are beyond comparison. "For us, the best award is when I hear that 'Tring Tring' ring on my phone, and get a new order from a lady who is sitting 1000 of miles away and trusting us. The most rewarding moments are when we get a smiling picture of our client wearing a Khinkhwab saree or dupatta when our clients write to us that "we receive the parcel and its sooo beautiful" when someone leaves us a testimonial when I am able to get the exact color or design for a client. All these awards are given to us by the people who are very important to us, who support us and trust us every day." Mrs. Ruchi Agarwal shares proudly.